Two Mary Elizabeth Jane Colter Buildings Turn 100 in 2014
Mary Elizabeth Jane Colter was, by many accounts, a persnickety, bossy perfectionist and creative visionary who wasn't afraid to persuade key National Park Service staff, construction workers or Fred Harvey Company executives into doing things her way. As a result of her relentless ways the renowned Fred Harvey Company architect created some of the most significant structures in the American Southwest. Two of the buildings designed by Colter – Hermits Rest and Lookout Studio – turn 100 this year. The two distinctive structures are both popular stops for Grand Canyon visitors as well as students of historic and rustic architecture. Colter was famous for her habit of conjuring background stories for her building designs and her personal attention to even the tiniest of details. She is recognized as one of the most important architects of the last century, and she is widely admired for her use of native materials and designing buildings that blend perfectly with their natural surroundings.
Hermits Rest
A National Historic Landmark,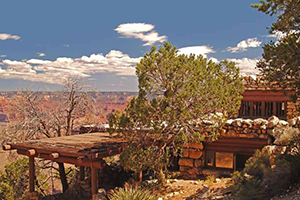 Hermits Rest is located eight miles to the West of Grand Canyon Village. Colter's back story was that the log and rock structure was the secret hideaway of a fictional hermit who wandered through the region, traveling along a trail into the canyon that is now called Hermit's Trail.
The structure, which looks like a rustically constructed stone house, features a gift shop and a small quick-service food outlet, and it is a great rest area for motorcoach passengers, cyclists and other Grand Canyon visitors. The building features a large front porch, where visitors today relax and take in the vistas, and a large main room with a massive fireplace capped by a 20-foot-high arched hearth. The coup de grace is what appears to be years of soot and smoke residue surrounding the hearth. This was added prior to the 1914 opening to give the appearance of a well lived-in space.
Furniture was constructed from tree trunks and a bearskin rug was positioned
on the stone floor. A warm, cheery fire greets guests in the cooler months today.
Lookout Studio
Colter's other building that year was Lookout Studio. Built out of native stone and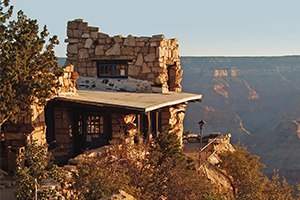 situated right in Grand Canyon Village just to the west of Bright Angel Lodge, another Colter-designed building, Colter found her inspiration from the natural landscape. The multi-level building – designed to blend seamlessly with the canyon layers and edge – seems an extension of the Grand Canyon itself. Colter designed the oddly shaped roofline to reflect the natural shapes of the canyon rock and included a chimney made of irregularly shaped rocks to allow soil and debris to collect and native bushes to grow between the cracks, further blurring the line between building and nature. It was designed and built to compete with the Kolb Studio just a short distance down the rim at the head of Ralph Cameron's Bright Angel toll trail.
Lookout Studio is still used today as a gift shop that sells photography and books
related to the Grand Canyon, rock and fossil specimens collected from outside the park
and traditional souvenirs.
How to see Hermits Rest and Lookout Studio
Xanterra offers a two-hour interpretive motorcoach tour to Hermits Rest. The bus travels along the West Rim – originally built by the Santa Fe Railway to accommodate wagons – and stops at overlooks along the way.  Open year-round, Hermits Rest is also accessible by free National Park Service shuttle, by bike or by foot. During the winter months of December,  January and February, the road is also open to private vehicles. Lookout Studio is a stop on a self-guided walking tour of the Grand Canyon Village Historic District and is open year-round. The free tour, with brochures available in lodges and other Xanterra-operated buildings, is designed to encourage visitors to take the time to learn about the Grand Canyon's significant contributions to tourism in the American West. Other historic structures located about two miles from the National Park Service Grand Canyon Visitor Center near Mather Point include the Hopi House, El Tovar Hotel, Bright Angel Lodge and Kolb Studio.