Located in the historic El Tovar
Gourmet dining in an atmosphere of historic and casual elegance describes this world-class dining experience. Located in the historic El Tovar Hotel, this celebrated and majestic Dining Room is constructed of native stone and Oregon pine.  The murals on the walls reflect the customs of four Native American Tribes – the Hopi, the Apache, the Mojave and the Navajo. The ambience is rustic, but classic and traditional. You can imagine the countless number of intriguing characters that have dined here in the past.  Guests such as Teddy Roosevelt, President Bill Clinton and Sir Paul McCartney have dined and shared stories within these walls. The menu is traditional, integrating both international and local Southwest influences.  Signature items such as the Prime Rib Hash at Breakfast or the Salmon Tostada at Dinner have graced the menu for decades and become true classics. The Service Staff for El Tovar Dining Room are consummate professionals; many have been with the restaurant for over 20 years. The El Tovar Dining Room is considered the premier dining establishment at the Grand Canyon and is recognized internationally.
Hours of Operation:
Breakfast – 6:30am to 10:45am
Lunch – 11:15am to 2:00pm
Dinner – 5:00pm to 10:00pm
Dinner – 4:30pm to 10:00pm (April 1 thru October 31)
Lounge – 11:00am to 11:00pm
El Tovar Dining Room & Lounge are open year-round with the following exceptions:
Dinner – December 12, 2015
Dinner – January 16, 2016
The Arizona Room will be open for dinner on these dates to accommodate our guests.
Dress Code: El Tovar Dining Room is a classic, fine dining experience. While jackets are not required, please use discretion to dress appropriately (shorts and flip flops discouraged)
EL TOVAR – SPECIAL HOLIDAY MENUS
Celebrating Thanksgiving Day at the El Tovar has become an honored tradition for many of our guests. On this day the Chef prepares an extraordinary holiday feast accompanied by freshly baked pies from our Pastry Chef. Seating for this remarkable meal begins at 11:00am with the last seating at 10:00pm Dining is first-come first-serve.  Arrive early and enjoy the entire day.z
El Tovar 2015 Thanksgiving Dinner Menu
El Tovar 2015 Thanksgiving Desserts Menu
On Christmas Day El Tovar is transformed into a virtual holiday chateau with a 15 foot tree lights, garland and bows. It is spectacular. Christmas dinner begins at 4:00pm, reservations are recommended. On this night the Chef prepares classic dishes such as Roasted Duck, Prime Rib and Fresh Salmon.  Enjoy hot cocoa, play board games in our Mezzanine and have a stress free holiday.
For New Year's Eve, the Chef will prepare a special holiday menu for our guests in addition to our regular menu. Ring in the New Year with a classic meal and good friends in a beautiful environment. Reservations are accepted and encouraged.
El Tovar Lounge
The Lounge welcomes guests into a warm and relaxing environment. This inviting and rustic room displays paintings of the canyon created by local artists. The small veranda directly outside of the lounge has spectacular views, famous for enjoying the Arizona sunsets. Guests can enjoy a light meal and cool beverage while planning their next activity. The limited menu features canyon specialties such as the Mozzarella Roulade and Crab-cake Sliders.  You must be 21 years of age – Legal ID is required.
Wine Program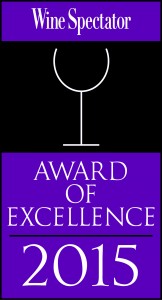 The El Tovar Dining Room wine list features 100 varieties of wine produced from prominent domestic wineries. The list features many wines from the emerging Arizona wine industry as well as varietals from California, Oregon and Washington. Over 70% of our winemakers utilize organic and sustainable farming practices. The El Tovar Wine List has received the Award of Excellence 4 years running from Wine Spectator Magazine.
Join us on the El Tovar Lounge Veranda or in the Dining Room where our trained staff will assist you in selecting the perfect glass of wine to compliment your meal, creating memories of a life time.
El Tovar Menus
PLEASE NOTE: Menu pricing is subject to change without notice.
Dinner Reservations
Due to the overwhelming popularity of the restaurant, advance reservations are highly recommended for dinner.
Please call – 928-638-2631, ext. 6432
Or send an email to eltovar-dinner-res-gcsr@xanterra.com.
El Tovar Hotel Guests can make Dinner reservations 6 months in advance.
Guests and/or visitors not staying in the hotel can make a Dinner reservation 30 days in advance.