Shop Historic Landmarks
Hopi House
The Hopi House was designed by renowned architect Mary E.J. Colter and opened in 1905. Mary Colter was one of the first American architects to appreciate the natural beauty of Native American design. Therefore she designed Hopi House to reflect that of a typical adobe pueblo used by the Hopi Indians of Old Oraibi. The Hopi House, a National Historic Landmark, has been offering authentic Native American arts and crafts to visitors for purchase since the Fred Harvey Company opened its doors in 1905, over 100 years ago.

A visit to Hopi House combines retail shopping with museum quality artifact viewing. Here you will find a large selection of native arts and crafts available for purchase, such as hand-crafted kachinas, Native American jewelry, hand-woven Navajo rugs and authentic Native American pottery. The second-floor gallery, which reopened to the public in 1995, offers a variety of museum-quality items. Hopi House is located next to the EL Tovar on the Canyon rim.  It is open year-round. Hours vary seasonally.
Lookout Studio
Lookout Studio was designed in 1914 by Mary E.J. Colter as a gift shop and lookout point for the Fred Harvey Company.  It is perched on the very edge of the rim, providing spectacular views. It blends exceptionally well with its natural setting. There are two small outdoor over-looks that are open in good weather.
Lookout Studio sells photography and books related to the Grand Canyon, rock and fossil specimens (none collected inside the park), traditional souvenirs, books and photographic prints. It is located a short walk west of historic Bright Angel Lodge. Open year-round. Hours vary seasonally.
Hermits Rest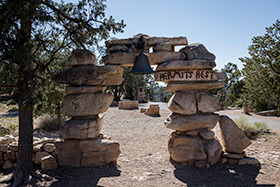 This is a National Historic Landmark is yet another extraordinary examples of Grand Canyon architecture designed by Mary E.J. Colter. Constructed in 1914 for the convenience and comfort of the traveler at Grand Canyon, Hermits Rest offers a far-reaching and interesting view of the canyon.
The main structure contains a snack bar and gift shop featuring traditional gifts, park souvenirs and Native American handicrafts. Hermits Rest is located at the western end of the Hermit Road, approximately nine miles west of Grand Canyon Village.
This area is accessed only by shuttle from March 1st through November 30th.  You can access the West Rim Road and Hermits Rest by hiking, bicycling or in-park tour bus on a year round basis.
Kolb Studio
Once the home of the Kolb brothers, who were early photographers at Grand Canyon, the Kolb Studio features changing art exhibits displayed in the auditorium throughout the year.
Built by Brothers Ellsworth and Emery Kolb from 1904 to 1926, Kolb Studio is included in the National Register of Historic Places and operated by Grand Canyon Association. The bookstore and auditorium are open to the public. The studio is located in the Village Historic District, at the Bright Angel trailhead. Open year-round. Hours vary seasonally.
Please visit our online store here