5 Reasons to Visit Grand Canyon in Summer
It's in the good ol' summertime when Grand Canyon National Park staffing reaches its peak.
Ah, summer! The peak season for visitors to Grand Canyon, many of whom take advantage of family time afforded by their children's summer vacation.
While the days are longer, offering more hours of daylight to enjoy this natural wonder, the weather is warmer. But don't let summer's high temperatures deter you. Keep in mind that the canyon's South Rim is a high desert of 7,000 feet. Drive to the North Rim and you've risen to an elevation of 8,000 feet. So while summer days can find average temperatures in the 80s, at night those temperatures can drop down into the 40s. You won't need a heater; you'll need a blanket.
Here are five reasons to visit during the high season.
1. Service with a Smile
In the good ol' summertime Grand Canyon National Park staffing reaches its peak. Along with lodging, dining, and retail staff at the Grand Canyon Lodges, there's a surplus of National Park Service rangers on hand to introduce you to Grand Canyon's history, activities, and opportunities so you'll know exactly how to make the best use of your time.
To help you get started, head to the Visitors Center where you can share your interests as rangers map out an itinerary to take you to the places you'd like to see. It's also where you can watch Grand Canyon: A Journey of Wonder, a dazzling orientation film that whets your appetite for what lies ahead. A smart first stop, the Visitors Center is the centerpiece of a plaza that encompasses a market, shuttle buses, restrooms, bicycle, wheelchair, and stroller rentals, information on guided tours, and a limited range of sandwiches, snacks, and beverages.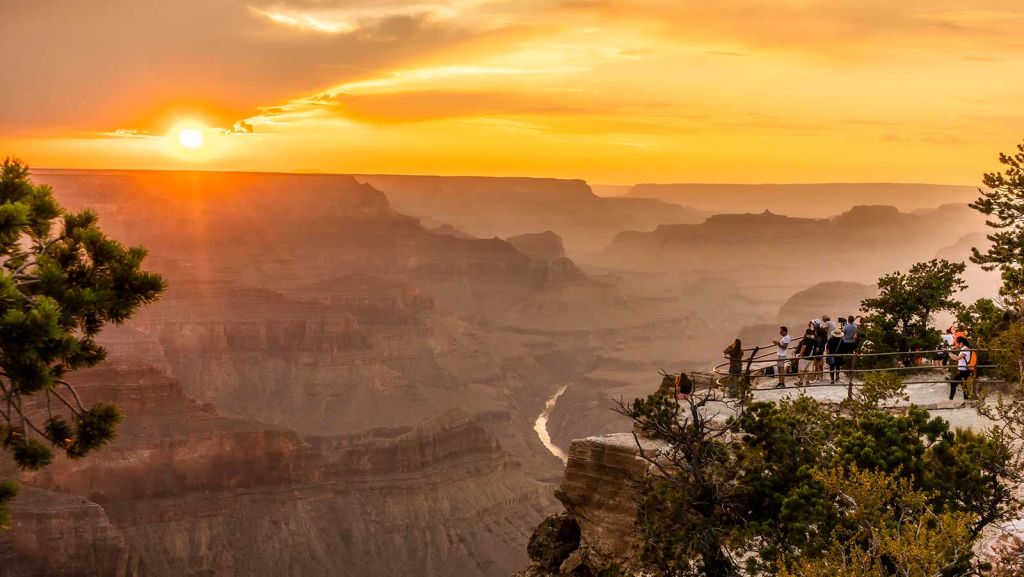 2. People Power
In addition to its emotionally powerful physical presence, during the summer season Grand Canyon has an energizing quality as well from its remarkable array of round-the-world visitors. That energy is especially palpable along the Historic Village's Rim Trail where visitors share a common experience. Because of this, language barriers drop as travelers on the promenade find themselves filled with a universal sense of discovery, wonder, and awe as they marvel at ever-changing views of the canyon. As you join this international assembly, you'll know you're in the right place at the right time.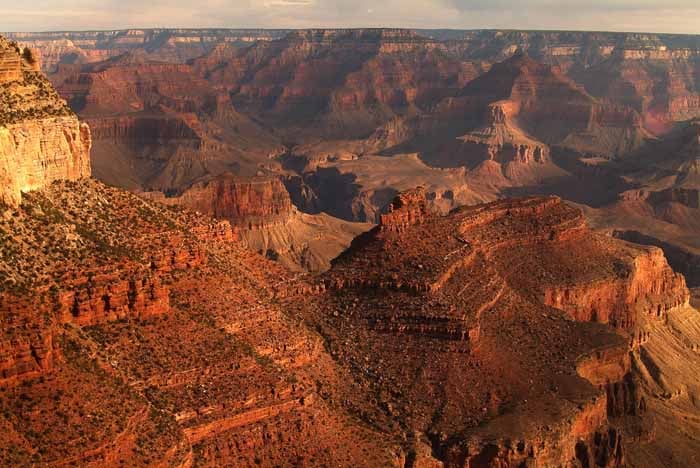 3. Extended Summer Hours
Longer hours of daylight ensure more time to enjoy Grand Canyon. Compared to less than 10 hours of daylight on the Dec. 21 winter solstice, in the summertime you'll enjoy a surplus of daylight — nearly 15 hours of sunshine at its peak on the June 21 summer solstice.
Those five extra hours can be filled with an array of activities which, in the summertime, should include watching Grand Canyon illuminated by the dawn's early light. Rise early and step aboard a shuttle for the Sunrise Tour, which departs 30 minutes before daybreak. After a guided tour to your viewing point at Hermit's Rest, you'll look east across the canyon and witness the first rays of daylight breaking over the rim. It's a wonderful way to kick off one of the longest days of the year.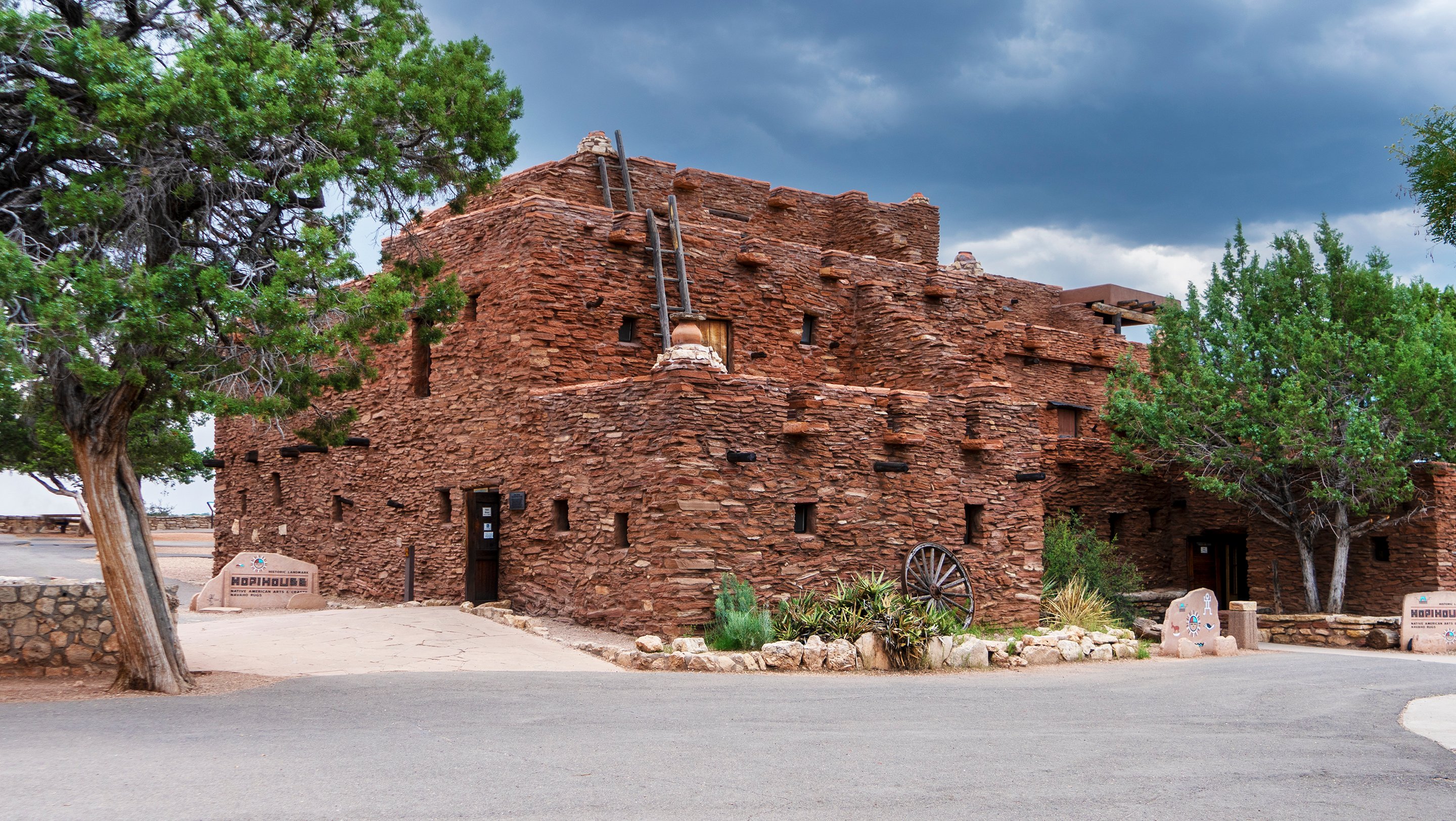 4. Indoor Retreats
When you need a break from the great outdoors, consider some cool indoor attractions.
Adjacent to El Tovar, drop into the air-conditioned Hopi House where two levels of authentic Native American arts and crafts are displayed in cases, on stands, and on walls. The extensive variety of handcrafted items is priced lower than similar items you'd find outside the park, and from jewelry to paintings to pottery there's sure to be something for you. A few hundred yards west along the South Rim, a line of visitors is quite likely stepping into the entrance of the Bright Angel Fountain where frozen treats can help you recharge for a few more hours in the sun.
Just beyond the Historic Village, consider ducking out of the sun and ducking into the Maswik Food Court for an eclectic selection of home-style lunch and dinner entrées, grilled burgers, hot sandwiches, pizzas, and pastas. Before stepping back outside, replenish your empty bottles at the chilled-water stations and you'll be refreshed for the rest of the day.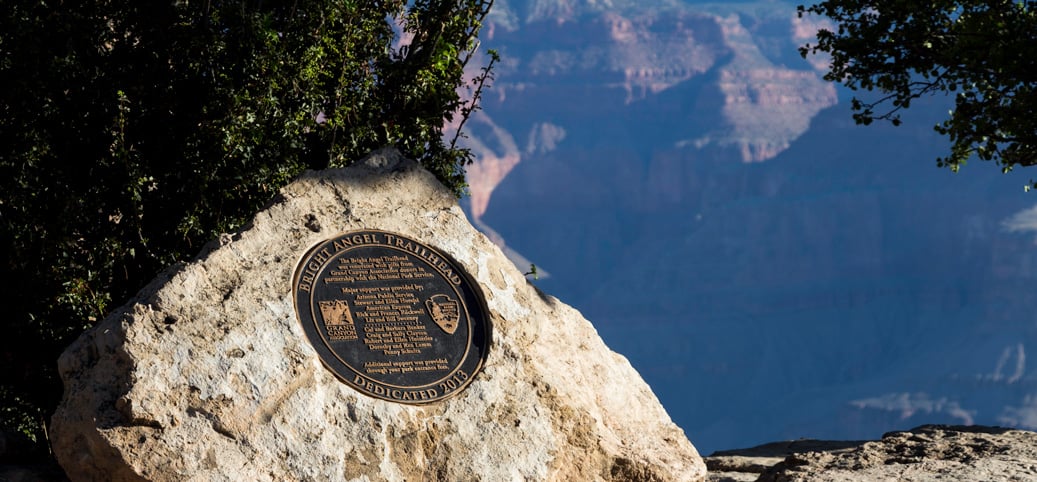 5. Happy Trails
Summer temperatures can wilt even the most experienced hikers, but you shouldn't miss an opportunity to get a glimpse below the rim. In the summertime, that means taking a short walk from the trailhead at either Bright Angel Trail (near the Historic Village) or South Kaibab Trail (beyond the Visitor Center). Since temperatures actually get higher as you walk lower into the canyon, be sure to bring plenty of water, salty and/or protein-rich snacks, wear appropriate clothing, and carry a walking stick or walking poles as you set off on a short hike either a few hundred feet or perhaps half a mile into the canyon. Even from just a few yards below the rim, you'll see Grand Canyon from a delightful perspective and realize how, even in the warmest months, this is a summer to remember.
How to Explore
Grand Canyon National Park Lodges provides the premier in-park lodging, managing six distinctly different lodges. From the El Tovar hotel, long considered the crown jewel of national park hotels, to Phantom Ranch, the only lodging on the floor of the canyon, you'll find accommodations to help you get the most out of your visit to the Grand Canyon. You can also book rafting, railway, and motorcoach tours. For more information and reservations, visit grandcanyonlodges.com or call 888-297-2757.
Or consider the 10-day "Bryce, Zion & the Grand Canyon" tour from Holiday Vacations, one of America's most reputable tour companies with more than 44 years of experience. As a nationwide provider of air, rail, motorcoach and cruise guided vacations to more than 65 destinations worldwide, their packages are inclusive of all airfare, fine hotels, meals and must-see attractions. Expert tour directors handle all travel details, assuring you a carefree and memorable vacation. Visit HolidayVacations.com for more information.
For more travel experiences to Beautiful Places on Earth™ available from Xanterra Travel Collection® and its affiliated properties, visit xanterra.com/explore.
---