Food for Thought: The Signature Dishes of Grand Canyon
Dining remains central to the appeal of Grand Canyon and dishes developed long ago endure as guest favorites.
Grand Canyon has been around for nearly six million years, but only in the past century did it transition from a remote natural wonder into an accessible natural destination. For early travelers who'd faced a series of challenges just to reach the park, it was the presence of the nation's first restaurant chain, the Fred Harvey Company, that made them feel welcomed.
More than a century later, dining remains central to the appeal of Grand Canyon and dishes developed long ago endure as guest favorites. Accommodating the appetites of millions of visitors a year are restaurants, cafeterias, snack bars, food kiosks, and markets where you can sit down for an elegant meal or light lunch, grab something to go, or pack up a picnic to enjoy by an overlook.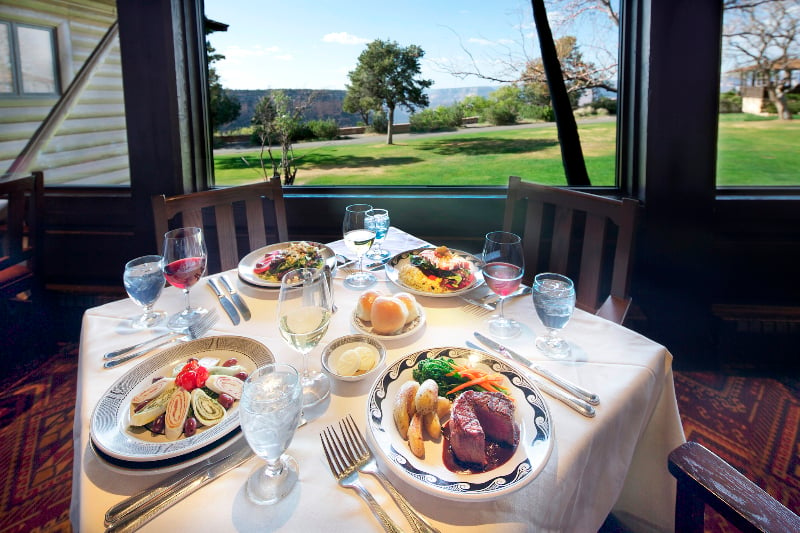 For many guests, the signature dining experience is found in the park's most celebrated restaurant located at the El Tovar. Menu selections such as beef and pork chili and French onion soup were already long-standing favorites of guests (with recipes that remain the same to this day) when Matthew McTigue, executive chef of Grand Canyon National Park Lodges, arrived at Grand Canyon in 1994. He found other longtime menu items that have remained popular with only minor adjustments made for changing tastes.
"Some dishes which have been on the menu for nearly a century have developed into what you could call our 'greatest hits'," says McTigue. "Guests return again and again ready to order that same dish as they celebrate an anniversary or other special occasion."
At the El Tovar dining room, signature dishes are available morning, noon, and night. Breakfast features prime rib hash with flour or corn tortillas; eggs Benedict with Canadian bacon or honey-smoked salmon; Southwest quesadilla; Sonoran-style eggs (in a tortilla bowl with beef chorizo, black beans, roasted red peppers, Monterey Jack cheese, and tortillas); and the 3-B trio of buttermilk, blue corn, and buckwheat pancakes.
At lunch, French onion soup gratinée, Arizona-grown beef tenderloin and pork loin chili, Navajo tacos, beef Stroganoff, and quiche are among the most popular dishes, while dinner finds French onion soup making an encore appearance, complemented by signature items such as spinach and endive salad, chicken El Tovar, salmon tostada, and the coffee cumin-rubbed New York strip steak with a New Belgian Brewery 1554 Black Lager Demi-Glace.
Taking a bow to the increasingly popular Arizona wine trail movement, El Tovar's wine list features many vintages from the emerging Arizona wine industry.
"At El Tovar and in our other South Rim table service restaurants, we have an award-winning wine list," adds McTigue. "Our servers are skilled at helping guests pair any meal to any entrée at any budget."
It's not only the classic meals that keep diners returning. "El Tovar is just a few yards from the South Rim, so when you combine the canyon, the dining room's décor, and the menu, it creates an experience in which the whole is greater than the sum of its parts," McTigue explains. "Some guests dine there to celebrate a special occasion and others return each year because they find it's an experience that surpasses expectations every time."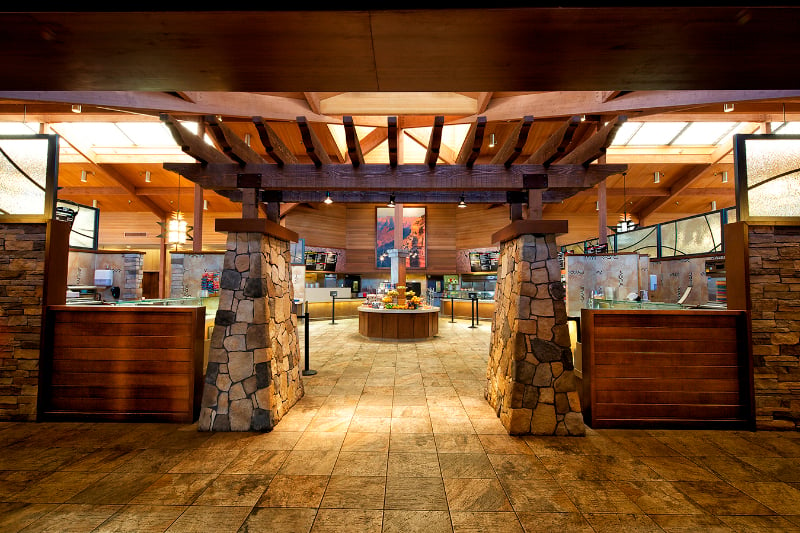 Endless Dining Locations
Adding to signature dishes, Grand Canyon offers visitors endless miles of signature dining locations.
"If someone picks up a meal from the Maswik Food Court, or ice cream, coffee, fresh fruit, and pre-made sandwiches from the Fountain at Bright Angel Lodge, or ice cream and cookies and pastries from the food service stand at Hermits Rest, any spot along the rim is a perfect place for a picnic since there's no such thing as a bad view of Grand Canyon," McTigue says.
Even more food items are available at two mobile locations, says McTigue, including a small cart in the Historic Village that serves novelty ice cream bars, trail mix, jerky, and refreshments, and a food truck at the Visitor Center where guests can order hot dogs, brats, chili, and beverages.
"And let me suggest one last thing for someone looking for the ultimate Grand Canyon dining experience," McTigue adds. "I'd suggest they reserve one of El Tovar's four suites. Each includes a private porch with a private view of the canyon, so they just have to call room service to enjoy a meal on the private porch while taking in the beauty of a stunning sunset or spectacular sunrise.
"It's unforgettable."
How to Explore
The best way to savor a signature dish at Grand Canyon is to spend a night or longer at one of the Grand Canyon National Park Lodges, the premier in-park lodging with six distinctly different lodges. From the El Tovar hotel, long considered the crown jewel of national park hotels, to Phantom Ranch, the only lodging on the floor of the canyon, you'll find accommodations to help you get the most out of your visit to the Grand Canyon. You can also book rafting, railway, and motorcoach tours. For more information and reservations, visit grandcanyonlodges.com or call 888-297-2757.
Or consider the 10-day "Bryce, Zion & the Grand Canyon" tour from Holiday Vacations, one of America's most reputable tour companies with more than 45 years of experience. As a nationwide provider of air, rail, motorcoach and cruise guided vacations to more than 65 destinations worldwide, their packages are inclusive of all airfare, fine hotels, meals and must-see attractions. Expert tour directors handle all travel details, assuring you a carefree and memorable vacation. Visit HolidayVacations.com for more information.
For more travel experiences to Beautiful Places on Earth™ available from the Xanterra Travel Collection® and its affiliated properties, visit xanterra.com/explore.
---