Groups Notice: All banquet and meeting rooms are closed for 2022.
A variety of facilities to meet your group's gathering needs
Grand Canyon National Park Lodges offers a variety of banquet options for your group, wedding or family reunion. Our sales staff works closely with our catering and banquet staff to ensure a quality dining experience for your group. Our banquet menu offers an extensive selection sure to suit any group's needs. Weddings, family reunions and meetings with 10 rooms or more are restricted to primarily off-season, November 1 – March 15.
Group Dining Rooms
El Tovar Dining Room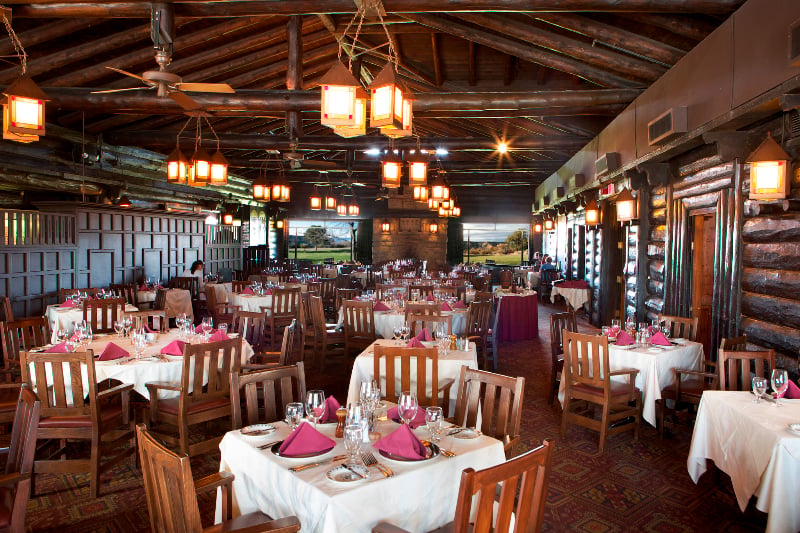 The Food and Beverage Department must have a 30 day notice to book these functions. Limit one seating per meal period unless approved in advance by the Food and Beverage Department. We are unable to guarantee the Canyon Room or a specific area of the Dining Room with a canyon view. Parties of 20 or more must order in advance off the Banquet Menu.
Arizona Steakhouse at Bright Angel Lodge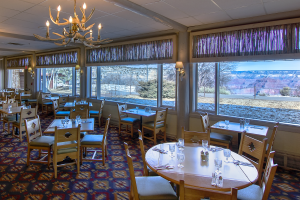 Arizona Steakhouse breakfast buffets are only available for groups between 20 and 100. The room may be reserved by more than one group at a time, based on the size of the groups.
The Santa Fe Room at Maswik Lodge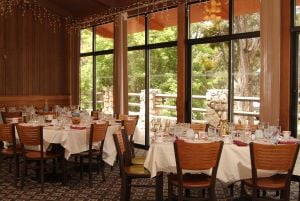 This facility is generally used by tour groups during the day. This area is ideal for large private parties or tour groups beginning at 5:30 PM (groups requiring special set-up will begin later). Beer and Wine bar is available until 11:00 PM. The maximum capacity for this area is 160 people for buffet dinner with family style seating. This room will accommodate 100 people comfortably with buffet or plated dinner and dance floor.
Thunderbird Room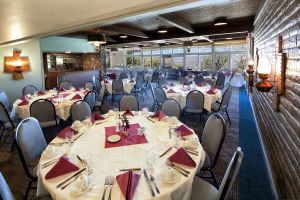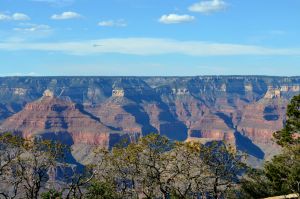 Thunderbird Room offers a banquet facility overlooking the canyon, and catered by the exceptional staff of the El Tovar Dining Room. This room is available for group meals and functions of 20 or more. Located upstairs in the Thunderbird Lodge on the South Rim , this is a beautiful room with wet-bar, barbecue, fireplace and private balcony overlooking the rim of Grand Canyon (see view above). The room is approximately 1170 square feet. Contact group sales for details.
General Food & Beverage Policies & Procedures
No personal food or beverage may be brought into any banquet facility at any time.
All banquet options, group functions and dining facilities are subject to health and safety guidelines/restrictions and may change without notice.
A minimum of 20 people is required to book any function space and/or date.
Finalized menu selections must be received 14 days prior to the event. Only one menu selection per group.
Confirmed attendance must be specified at least 3 business days prior to the event.
Full payment for services is due no later than 30 days prior to arrival. The only exception to this is items billed "by consumption." Groups booked less than 30 days prior to arrival must make payment by the date stated on the Agreement.
Cancellations must be made in writing at least 14 days prior to the event date to receive a deposit refund.
Any and all services may be refused and payment forfeited if the group is 30 minutes or more late.
Any damage to property or loss of Grand Canyon National Park Lodges (GCNPL) revenue caused by the group will be the responsibility of the group.
Room rental charges and charges for special services will be applied to any function or event. These charges are listed under "Banquet Set-up Fees."
All banquet facilities are non-smoking.
Quiet hours for all banquet facilities begin at 9:00 p.m. (MST). All parties must vacate the premises by 10:00 p.m.
All food, items and services are subject to current sales tax of 6.9% (subject to change without notice).
We reserve the right to relocate any group to an alternate location within the park if the attendance number differs greatly from the amount originally expected.
Any decorations, equipment, packages or materials must be delivered prior to the event and coordinated with the Sales or Food and Beverage Offices. GCNPL does not assume any liability for such items.
All displays, exhibits, banners, decorations, signs and other similar items must conform to Fire Ordinances. Placement of such items must be reviewed in advance by the Banquet staff.
GCNPL reserves the right to require security services for some events. Payment for such services will be the responsibility of the group or customer hosting the function.
Disturbances: Should Fire & Security be called to the event, one warning at any time will be excused. If a second warning is required, the premises must be vacated immediately and no refunds will be issued.