NESTLED AT THE BOTTOM OF GRAND CANYON
Enter the Phantom Ranch Lottery
Phantom Ranch is a historic oasis nestled at the bottom of Grand Canyon. It is on the north side of the Colorado River tucked in beside Bright Angel Creek. Phantom Ranch is the only lodging below the canyon rim, and can only be reached by mule, on foot or by rafting the Colorado River.
In the 1920's, the National Park Service selected the Fred Harvey Company to build a tourist facility within the canyon. Mary Jane Colter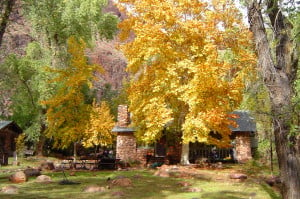 was commissioned to draft the plans for the facility. She produced sketches for a series of cabins. Everyone was pleased and announced they would name it Roosevelt's Chalets. Upon which she snatched up her work and declared, "Not if you are going to be using my work". A consummate perfectionist, she had already chosen the name: Phantom Ranch. The rustic cabins and main lodge are built of wood and native stone blending with the natural beauty of the setting.
Accommodations at Phantom Ranch
Enter the Phantom Ranch Lottery
All Phantom Ranch reservations must be made in advance. Space is extremely limited. You can't have extra people stay under your reservation. People may not double-up in the bunks or sleep on the floors. Our cabins and dorms do not have phones or televisions, but a pay phone is available at Phantom Ranch (credit card or phone card ONLY) .
Children are welcome at Phantom Ranch; however, we discourage young children from hiking to Phantom Ranch due to extremes in temperatures in the summer and winter, and the remoteness of the location. Families with children 5 years of age or younger are limited to cabin use only.
HIKERS
Hiking is one of the most rewarding ways to see the Grand Canyon, and is also the most difficult. The walk to Phantom Ranch is approximately 7.5 miles down the South Kaibab Trail (average hiking time is 4-5 hours down) and 10 miles on the Bright Angel Trail (average hiking time down is 4-6 hours, average hiking time up is 6-10 hours). A good rule of thumb is for every hour it takes to hike down, it will take two to hike up. Summer temperatures can reach 120° F (49° C). Winter conditions can be icy and treacherous. Take a hike…but be prepared! Things to know before making the hike.
Overnight accommodations at Phantom Ranch consist of dormitory spaces and cabins. Cabins and dormitories are heated in winter and cooled during the summer months.
DORMITORIES
These accommodations are available to hikers only. There are 2 male dorms and 2 female dorms. Each dorm has 5 bunk beds, a shower and restroom. Bedding and towels are provided for each guest occupying a dorm bed. Children must be at least 6 years old to stay in a dormitory.
CABINS
These accommodations vary in size and accommodate from 2 to 10 people. Cabins are equipped with bedding, cold water sink, toilet, liquid soap, and hand towels. Showers, bath towels, hot water sinks, and liquid soap-shampoo combination are provided at a central location. Pricing for cabins is based on double occupancy, additional guests may stay with an additional charge.
If you are hiking the canyon or meeting /departing a white water trip, and wish to stay at Phantom Ranch in a cabin or a dorm, you must call our Central Reservations Office. Due to the popularity and high demand for Phantom Ranch reservations, bookings are on a first come first serve basis. Room inventory opens for sale 13 months prior to your desired arrival date, on the first day of each month.
Please contact our Central Reservations Office to speak with one of our knowledgeable Reservations Agents toll free:
CENTRAL RESERVATIONS HOURS OF OPERATION
Daily – 7:00 a.m. to 7:00 p.m., Mountain Time (observing daylight savings time)
Toll-free within the U.S. 888-29-PARKS (888-297-2757)
Outside the U.S. 303-29-PARKS (303-297-2757)
NOTES: The reservations office is closed Thanksgiving, Christmas and New Year's Day.
As of Monday, April 27, 2015 each caller will be limited to making one new reservation per phone call. Additionally, each reservation may include up to a maximum of nine guests for up to a maximum of four consecutive nights. Additionally, if a caller/guest has reserved multiple reservations via multiple phone calls, the maximum consecutive nights cannot be exceeded for that guest. As of Wednesday, November 1, 2017 Phantom Ranch requests will be processed using an online lottery system. Use the button below to enter the lottery or check for current availability.
Enter the Phantom Ranch Lottery
What time is it?
Time is confusing out here! Grand Canyon is located in Arizona, and does not follow daylight savings as it is in the Mountain Standard Time Zone. However Denver, where our Central Reservations Office is located, does follow DST as it is in the Mountain Time Zone. Click here to check what time it is at our Central Reservations Office.
GROUPS
For overnight stays at Phantom Ranch, a minimum of 10 to a maximum of 20 hikers, or parties of 10 mule riders is designated as a Group. Learn more about groups here. Through December 31, 2018, ten mule riders are designated as a Group. As of January 1, 2019, parties of 10 mule riders may book their reservation by either calling our Central Reservations office at 303-297-2757 or 888-297-2757, or via the website:
MULE RIDERS
One night or two night mule trips can be booked with the Central Reservations Office. These trips are sold as a package. For more information view Mule Trips.
Phantom Ranch Room and Service Rates
| | |
| --- | --- |
| Room Type | Rate |
| Cabin, two people | $154.80 |
| Additional person in cabin | $13.00 |
| Dorm, per person | $52.92 |
| Group Cabin, Flat Rate | $253.00 |
| Breakfast, per person | $22.50 |
| Sack Lunch, per person | $14.50 |
| Steak dinner, per person | $44.72 |
| Stew dinner, per person | $27.45 |
| Veggie dinner, per person | $27.45 |
| Duffel service | $70.00 each way |
Reconfirming your Phantom Ranch hiker reservation: If you have made advance reservations for Phantom Ranch, YOU MUST RECONFIRM YOUR RESERVATION 2 DAYS PRIOR TO YOUR HIKE. To reconfirm, call the Bright Angel Transportation Desk at 928-638-3283. This allows us to more effectively deal with any questions or problems you may have. It will also allow us to notify you of any recent changes with trail closures, pipeline breaks, inclement weather, or other items that may impact your hike.
ADDITIONAL INFORMATION:
Accommodations for rafting trips must be booked through the outside vendors.
Dorm accommodations are twin size bunk beds. Cabins will have either two sets of twin size bunk beds, or one queen size bed.
The Phantom Ranch Canteen serves breakfast and dinner, which must be reserved in advance. If you have special dietary needs, such as glucose intolerance or food allergies, please advise the reservation agent at the time of booking. Phantom Ranch will do their best to accommodate all special requests.
The Canteen is available for all visitors during specific hours, with snacks, beverages and sundries for purchase. For more information view Phantom Ranch Canteen.
All rates quoted in U.S. Dollars and do not include applicable taxes.
A National Park Service campground is located nearby and requires a backcountry permit. A backcountry permit is not required for people staying in Phantom Ranch dorms or cabins. This may be obtained by writing to:
Grand Canyon National Park Backcountry Reservations Office
PO Box 129
Grand Canyon, AZ 86023
or via fax:
928-638-2125