Rooms with a View: The Best Grand Canyon Lodging
So stay a couple of nights (or four or five) in one of Grand Canyon's unique accommodations. Each has a distinct look and price point, and offers visitors a sense of history, of tranquility, and of place.
For many travelers, a visit to Grand Canyon National Park fulfills a lifelong dream. At 18 miles across, one mile deep, and 285 miles long, Grand Canyon is not something you can see in a few hours. Add hiking trails, nature talks, films, observation points, specialty tours, ancient ruins, museums, bicycling, shopping, and dining (not to mention sunrises and sunsets), and Grand Canyon becomes a place where two days at a minimum are needed to fully appreciate the full scope of its breathtaking beauty and diversity.
So stay a couple of nights (or four or five) in one of Grand Canyon's unique accommodations. Each has a distinct look and price point, and offers visitors a sense of history, of tranquility, and of place. Stay here and you'll breathe the clean air of the high desert, rest in the comfort of a national park, and be just a short walk away from one of the most Beautiful Places on Earth®.
But how do you choose your perfect room? Here's the inside scoop on the park's most popular options.

Bright Angel Lodge
In 1935, architect Mary Colter's Bright Angel Lodge & Cabins opened as a low-cost alternative to the famed El Tovar (known by some travelers as the "hotel up the hill"). Then, as now, Bright Angel's Buckey O'Neill Cabin appeals to travelers seeking a comfortable, affordably priced suite in a prime location. And what a location!
The oldest building at Grand Canyon in its original location, the cabin built by Buckey O'Neill is directly on the canyon rim boasting canyon views just out the front door. Dating to the late 1800s, it was abandoned after Buckey was killed in Cuba while serving with Teddy Roosevelt's Rough Riders. It was then incorporated into the Bright Angel Lodge by Colter, who transformed it into a spectacular two-room suite.
For an upgrade, consider the Rim Cabins that (as the name implies) are actually at the rim. While offering only a single queen bed, four of the cabins have a fireplace and all have windows that open to a one-of-a-kind Grand Canyon view.
For a true trip back in time, reserve the Red Horse Cabin that once served as the post office for Grand Canyon Village. The oldest building at the South Rim was built as the Cameron Hotel, moved to its present location in the early 1900s and converted into a two-room fireplace suite. Today it is one of the most beautiful and comfortable suites in the park.
Maswik Lodge North and South
Although the Bright Angel's cabins are perfect for one or two travelers, when a family travels together they should consider the budget-friendly rooms of Maswik Lodge.
Just a short walk from the South Rim, the Bright Angel Trail, and the transportation hub where buses can take you the Visitor Center and various observation points, the oversized rooms of Maswik North are a perfect base for families who want to wrap up a day of outdoor exploration with plenty of room to relax.
"This is a great choice for families," says Bruce Brossman, marketing director for the Grand Canyon National Park Lodges and Grand Canyon Railway & Hotel. "The rooms in the North section are oversized and comfortable, they come with two large beds, they're located within walking distance to everything in the Historic Village, there's a convenient food court here, and you'll find visitor services as well. And when you arrive via the Grand Canyon Railway, a room here is part of the package. Maswik is a very desirable choice."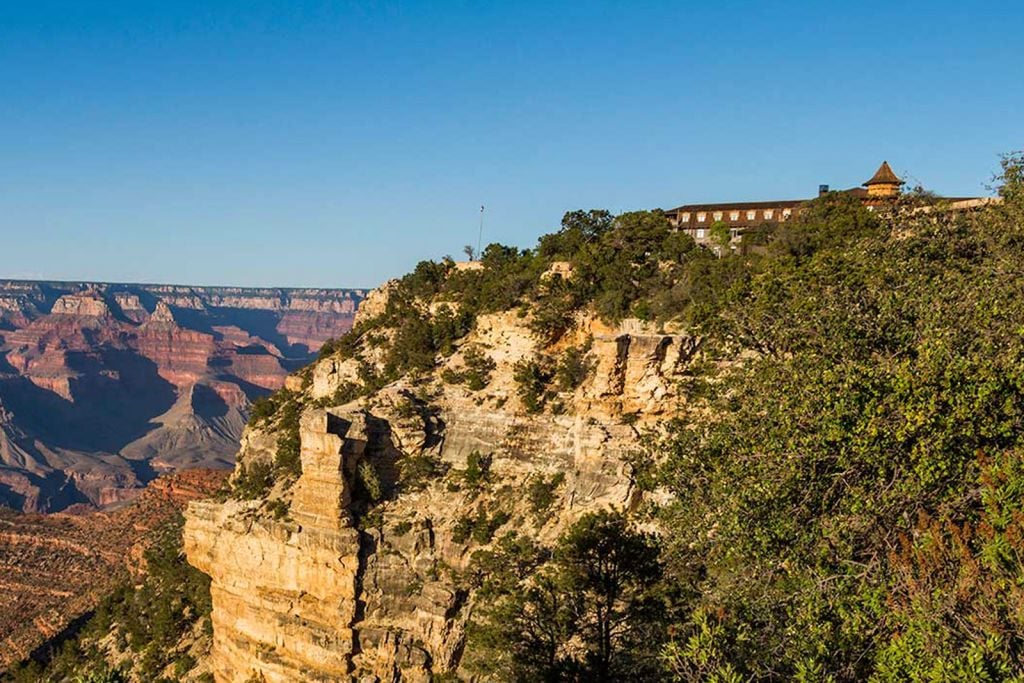 El Tovar Hotel
One of the most famed lodges in America, the historic 78-room El Tovar offers the peak Grand Canyon experience.
"The ultimate canyon lodging experience has to be a canyon view suite in El Tovar," Brossman says. "There are four suites and each suite includes two rooms and a balcony — and I assure you there's nothing better than watching sunrise and sunset from a private balcony."
Each suite is uniquely themed, such as the Mary Colter Suite, which pays tribute to the famed "Architect of the Southwest," and the Zane Grey Suite, which includes memorabilia of the author who captured the spirit of the Old West in novels like Riders of the Purple Sage. It's not just the suites that make this National Historic Landmark special. Stay here and rest awhile in the front porch rockers. Join other travelers in the downstairs lounge. Stroll over to the Hopi House. Set aside an evening or two for a meal in the renowned dining room. Shop for one-of-a-kind jewelry and gifts in the boutique.
And then get a good night's rest.
How to Explore
Grand Canyon National Park Lodges provides the premier in-park lodging, managing six distinctly different lodges. From the El Tovar hotel, long considered the crown jewel of national park hotels, to Phantom Ranch, the only lodging on the floor of the canyon, you'll find accommodations to help you get the most out of your visit to the Grand Canyon. You can also book rafting, railway, and motorcoach tours. For more information and reservations, visit grandcanyonlodges.com or call 888-297-2757.
Or consider the 10-day "Bryce, Zion & the Grand Canyon" tour from Holiday Vacations, one of America's most reputable tour companies with more than 44 years of experience. As a nationwide provider of air, rail, motorcoach and cruise guided vacations to more than 65 destinations worldwide, their packages are inclusive of all airfare, fine hotels, meals and must-see attractions. Expert tour directors handle all travel details, assuring you a carefree and memorable vacation. Visit HolidayVacations.com for more information.
For more travel experiences to Beautiful Places on Earth™ available from Xanterra Travel Collection® and its affiliated properties, visit xanterra.com/explore.
Written by: Gary McKechnie
The author of the best-selling Great American Motorcycle Tours, Gary McKechnie also wrote National Geographic's USA 101 and Ten Best of Everything: National Parks. He lectures on American travel and history aboard the ships of the Cunard, Seabourn, and Silversea lines.
---